ILLUSTRATION CONTEST 2024
Column
Pokémon Trading Card Game: Enjoyed Around the World
The Pokémon Trading Card Game has been played in 76 countries and regions to date. Why do players around the world love this game?

Let's find out what makes it so attractive and see just how many people can be charmed by a single card! We will start by interviewing Atsushi Nagashima, who directs the development of the Pokémon TCG. After that, we will talk with Barry Sams, who oversees the Pokémon TCG business outside of Asia for The Pokémon Company International.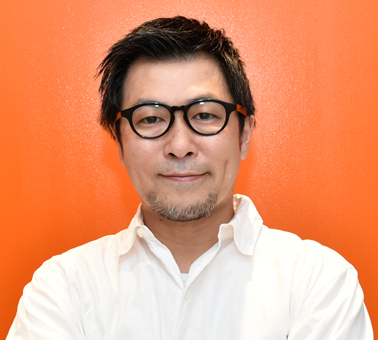 Atsushi Nagashima
Creatures, Inc.
Pokémon TCG Development Division, Game Director
He is involved in designing and defining the game environment and system, directing all products, and the game as a whole.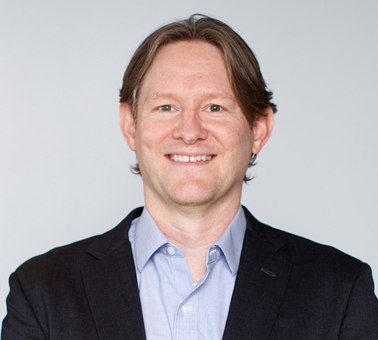 Barry Sams
The Pokémon Company International
Vice President, Trading Card Game
He is responsible for business strategy and product development related to the Pokémon TCG in all regions outside of Asia. He also oversees product planning, marketing, and logistics outside of Japan together with The Pokémon Company, GAME FREAK, and Creatures.
What is The Pokémon Company International?
The Pokémon Company International, a subsidiary of The Pokémon Company in Japan, manages the property outside of Asia and is responsible for brand management, licensing and marketing, the Pokémon Trading Card Game, the animated TV series, home entertainment, and the official Pokémon website.
Twenty-Five Years of the Pokémon TCG from a Development Perspective
Q: The Pokémon TCG was first released in 1996 and celebrated its 25th anniversary in 2021. What have those 25 years been like?
Nagashima: I'm really grateful that players have been enjoying the Pokémon TCG for such a long time. It's incredible that the game has continued to be popular for so long. However, I haven't been involved as director for all 25 years. At first, several creators—including Tsunekazu Ishihara, President and CEO of The Pokémon Company—established the foundation of the game. We have cherished these fundamental aspects of the Pokémon TCG and have continued to challenge ourselves to constantly add new stimuli to the game without changing the basic rules. Thanks to these cumulative efforts, fans still play with and collect cards to this day.
Q: So, these 25 years have been remarkable?
Nagashima: Exactly. The Pokémon TCG was developed in Japan and launched in the United States in 1999. Now, seeing people enjoy the Pokémon TCG all over the world is deeply moving.
Q: What do you think has made the Pokémon TCG so appealing to players for so long?
Nagashima: First of all, a huge reason is the love for the Pokémon franchise, which has continued to spread since its first appearance as a video game. Another reason behind the Pokémon TCG's popularity is that the basic rules of the game have remained consistent over time. Because of this, even if someone stops playing the game for a while, they can come back to it and still know how to play. And now, 25 years after the game's inception, it has evolved into a multigenerational game that parents play together with their children. Moms and dads who have played in the past can explain the rules to their children, who in return can keep their parents up to date on the latest Pokémon news. The game has managed to evolve into a phenomenon that can bring different generations together.
Q: It's wonderful that a game would evolve in such a way!
Nagashima: The Pokémon TCG is an analog game that uses physical cards. You can play with another person sitting in front of you, talking with you as you battle. In turn, the communication between players deepens their attachment to the cards. I believe that communication and attachment are two of the most important elements of the Pokémon TCG.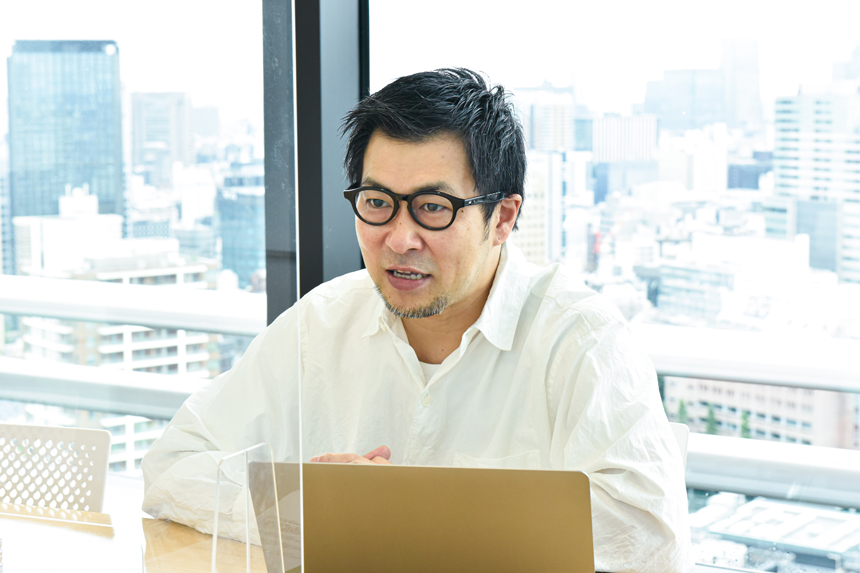 Q: What kinds of things do you usually keep in mind when developing the Pokémon TCG?
Nagashima: There are many ways to enjoy the Pokémon TCG: opening a pack, appreciating the illustrations, collecting cards, building decks, using your deck to play against other people, and so on. In other words, the game's developers have tried to weave fun into every stage of the TCG experience. I always focus on making the fans happy. As I develop the game, I make sure to take into account and respect all the different ways in which it can be enjoyed. As a result, I don't want to force people into dueling if that isn't what they want to do. I want everyone to be able to find their own way to enjoy the game.
Q: The Pokémon TCG is played throughout the world. What do you think made it as popular overseas as it is in Japan?
Nagashima: As I mentioned earlier, the game provides a variety of ways for people to have fun. I believe that this way of enjoying the game is universal, and that is why it has been accepted by fans overseas.
Another major reason is the masterful localization. With the help of our localization staff, we have established a method to optimize and deliver products originally developed in Japan that take our audience's cultural differences into account.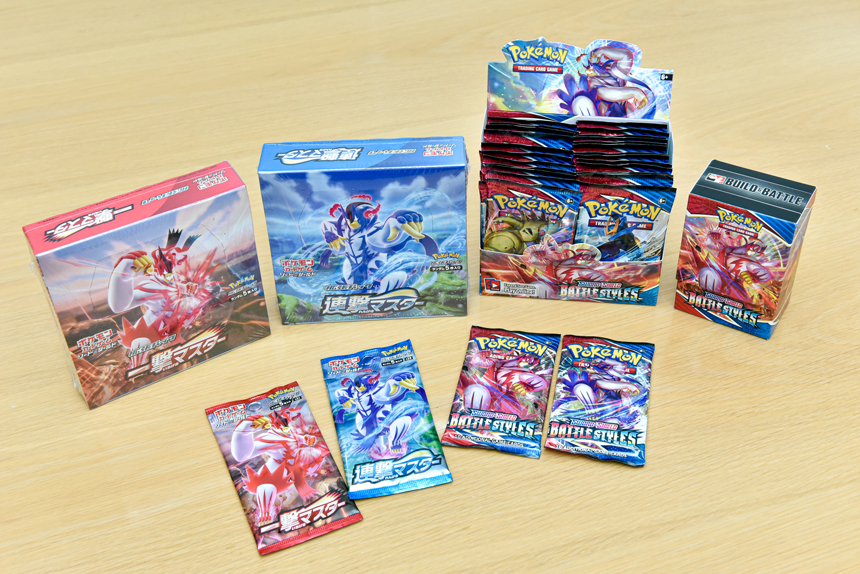 Q: What do you try to keep in mind to help develop a game that can be enjoyed all over the world?
Nagashima: Our developmental philosophy is based on the belief that the Pokémon TCG is a communication tool able to connect you with anyone else in the world. The text on the cards is translated according to the country of release, but their content is the same everywhere. In other words, even if the language is different, the illustrations, attacks, and effects that make up each card are the same. Unifying the rules in this way allows fans from different countries to play against each other. At the Pokémon TCG World Championships, players of many ages, both children and adults, use cards in their own languages to battle. I've personally seen a lot of players having fun during a match despite speaking entirely different languages. This is why I believe the Pokémon TCG is a communication tool that can connect everyone.
Q: As the Game Director, are there any card illustrations that have left a particularly strong impression on you?
Nagashima: The first thing that comes to mind are the illustrations from the Pokémon TCG: XY—Furious Fists expansion. This expansion is based on a fictional Pokémon tournament. We came up with a whole background scenario for the tournament, including the stages and the battle pairings. For example, in the background of the Magmortar card, you can see an Electivire battling. We imagined them as if they were fighting together as a pair. The background of the Machop card features some posters with the tournament brackets. These details help portray the tournament as it is being held.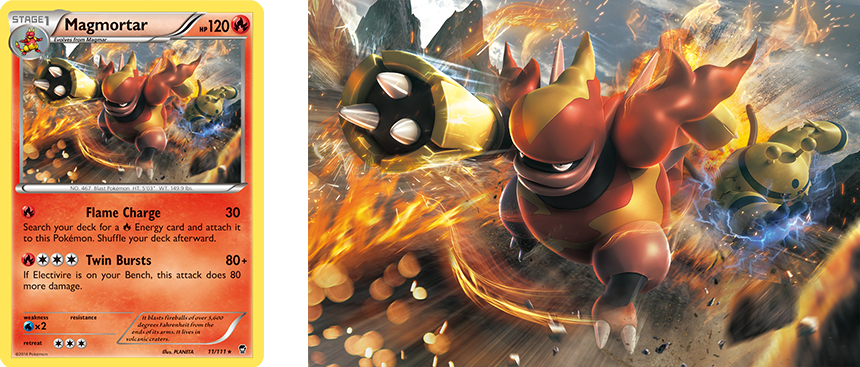 "Magmortar" Illustrator: PLANETA
As seen in the XY—Furious Fists expansion.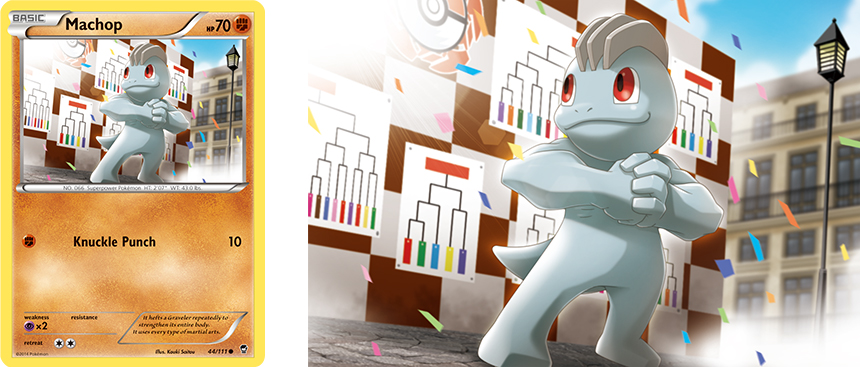 "Machop" Illustrator: Kouki Saitou
As seen in the XY—Furious Fists expansion.
The illustrations that impressed me the most after those are the ones from XY–BREAKthrough. In this expansion, we used the illustrations to hint at the backstory plot that we had come up with. Using Mewtwo's Mega Evolution into Mega Mewtwo X and Mega Mewtwo Y, we created a timeline where events from different pasts and futures collide, leading both Mewtwo to encounter each other. This is why the illustrations on the expansion's cards include some old-looking backgrounds and others from a futuristic town. We asked the illustrators to base their work on this story that we had prepared. It was an experiment of sorts.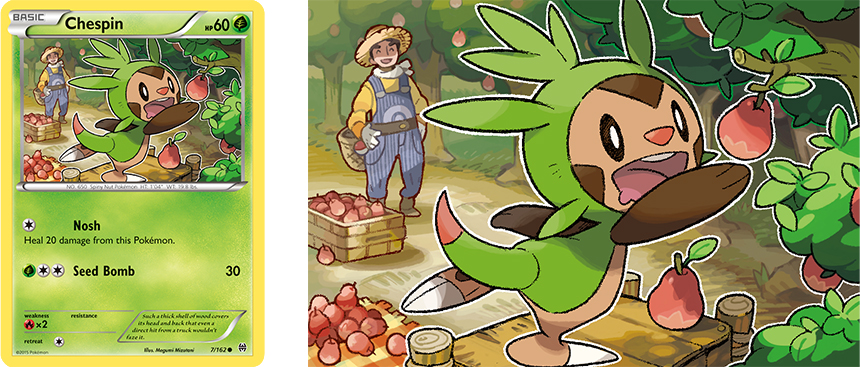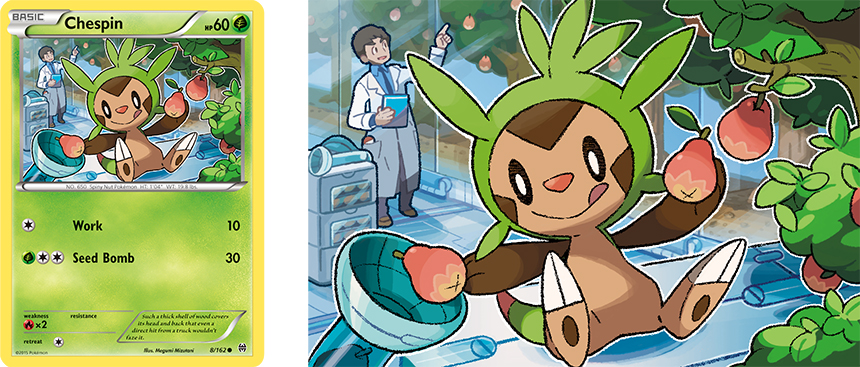 "Chespin" Illustrator: Megumi Mizutani
As seen in the XY—BREAKthrough expansion.
Q: So, the game design and story influence the illustrations?
Nagashima: I often make a request for the production of a particular illustration based on a new attack we've come up with. When the effect of a move and the illustration are connected in this way, it contributes to the make-believe aspect of the game, making players feel like they are really making their Pokémon use a certain attack. Ideally, our goal is to make the player want to shout the name of each attack as they use it. A good example is the Pikachu & Zekrom-GX attack Tag Bolt-GX found in Sun & Moon—Team Up. Since it is a TAG TEAM, we carefully considered all the possible Pokémon combinations. Would these two Pokémon be together? What kind of moves would they use if they did? We began by asking ourselves these questions, and then we decided things such as the attack is used by Pikachu but it's originally Zekrom's. We have woven numerous details into a single card.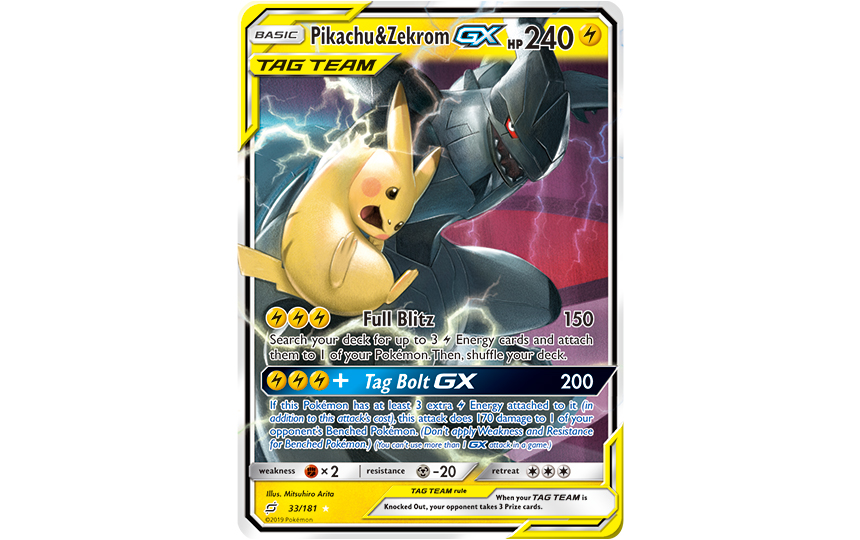 "Pikachu & Zekrom-GX" Illustrator: Mitsuhiro Arita
As seen in the Sun & Moon—Team Up expansion.
Q: You said that a card's attacks sometimes influence the illustrations. Does the opposite hold true as well?
Nagashima: When I'm stuck during the development of the attacks, I sometimes draw on my pen tablet to come up with new ideas. The incredible quality of the card illustrations also motivates me to work harder on the attacks any time I see how cool they end up looking.
The Appeal of the Pokémon TCG Throughout the World
Next, we will talk to Barry Sams, who is responsible for the team that adapts TCG products for players all around the world (including North America) after their original development by Creatures.
Q: The Pokémon TCG was first released in the United States in 1999, and has since expanded to other countries outside of Japan. In how many languages is the game currently available?
Sams: The Pokémon Company International (TPCi) oversees the Pokémon TCG outside of Asia (in North and South America, Europe, Australia, and New Zealand). So far, the Pokémon TCG has been translated into 13 languages and released in 76 countries and regions.
Q: What do you think makes the Pokémon TCG so appealing that it has spread to so many countries? And how would you explain its popularity among people of so many different nationalities?
Sams: Similar to the Pokémon brand overall, the Pokémon TCG has universal appeal. The diverse Pokémon, stunning artwork, element of collectability, welcoming community, and other aspects resonate across a variety of countries and cultures. The interest in Pokémon cards combined with other brand pillars, such as video games and animation, give our employees and partners confidence that Pokémon will continue to be popular year after year. It has also helped to expand the brand by having employees that understand the local markets dedicated to supporting each region.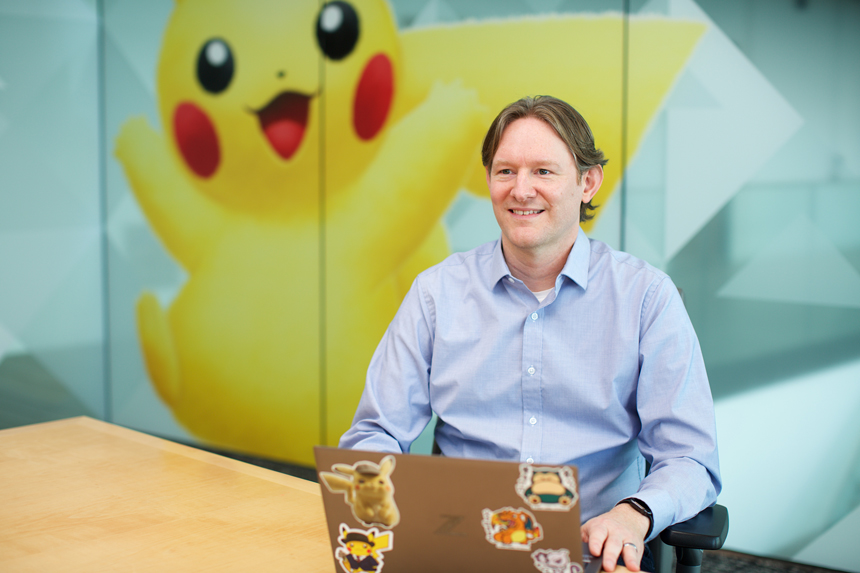 Q: Is there any illustration or card that gathered a lot of attention overseas? And if so, why?
Sams: One great thing about Pokémon and the Pokémon TCG is how every fan has a favorite Pokémon and region based on when they began their Pokémon journey. So, we see excitement for a variety of cards. Most recently, the Shiny Pokémon cards within our Hidden Fates (released in August 2019) or Shining Fates (released in February 2021) expansions created a lot of buzz amongst our fans similar to the excitement of encountering Shiny Pokémon in Pokémon GO or the Pokémon Sword and Pokémon Shield video games on Nintendo Switch, which are rare occurrences. I also heard a lot of positive feedback from the community regarding the TAG TEAM Pokémon-GX cards featuring multiple Pokémon during the Sun & Moon Series, like the stained-glass Moltres & Zapdos & Articuno-GX card. In our most recent expansions, the alternate-art cards have received a lot of positive attention. One of the recent favorites was the sleeping Tyranitar V card, featuring Pignite in the background, from the Sword & Shield—Battle Styles expansion.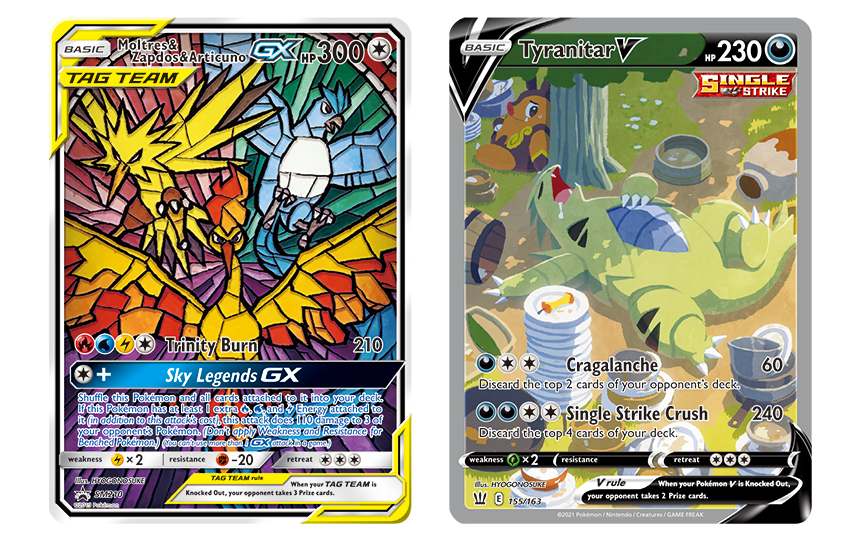 "Moltres & Zapdos & Articuno-GX" Illustrator: HYOGONOSUKE
As seen in the Sun & Moon Series Black Star Promo cards.
"Tyranitar V" Illustrator: HYOGONOSUKE
As seen in the Sword & Shield—Battle Styles expansion.
Q: Is the number of worldwide players increasing? If so, why?
Sams: Driven by the excitement of Pokémon cards and the brand's 25th anniversary, the Pokémon TCG has received record levels of interest in all TPCi markets. I believe the excitement has also been fueled by consistently high-quality cards, expansions, and products; our focus on making it easier to play the game; and that Pokémon has become multigenerational. We hear and witness more stories of fans who grew up with the brand now sharing their love and passion for Pokémon with their own children.
Q: Is there any particular event that left an impression on you regarding the game's international reception?
Sams: There are two topics that immediately come to mind over the past couple of years. First of all, I have been overwhelmed by the positive response to the release of the Pokémon Trading Card Game Battle Academy, which received the Game of the Year award at The Toy Association's 2021 Toy of the Year Awards, as well as other play-focused products, like League Battle Decks1 and the Trainer's Toolkit2. It has confirmed that our teams' and partners' hard work to make the Pokémon TCG more accessible has been well received by our fans, and it motivates us to continue to make better products.

1 League Battle Deck: A pre-built deck that contains powerful Pokémon and Trainer cards.
2 Trainer's Toolkit: A product aimed at players who want to build their own decks that includes widely used Trainer cards, condition markers, card sleeves, and more.
Secondly, I have heard many fans refer to this time as the "golden age" of the Pokémon TCG in refence to all aspects of the game coming together in such an intriguing way; diverse products, interesting expansion themes, deep card sets, special card treatments, and—most importantly—stunning illustrations. Given that each card is a small piece of art, it makes it less surprising how desired Pokémon TCG cards have been recently.
Conclusion: A Message to the Applicants
Q: What would you like to say to the Pokémon Trading Card Game Illustration Contest 2022 applicants?
Nagashima: In developing the Pokémon TCG, our challenge has always been improving the game while respecting its foundation. We do not plan to change this approach. Now that people from all over the world can play the Pokémon TCG, we want it to evolve and take a step or two forward. I would like to encourage applicants to try and create illustrations so effective that they can make people who aren't into the game want to play as well, improving the Pokémon TCG's popularity together with us. I basically want you to lend us your talent! (Laughs)
Sams: With this contest, applicants have the opportunity for their illustration to be viewed all over the world. I continue to be in awe of the passion and size of the Pokémon community worldwide, and I am excited that we are able to expand to the United States for this contest while seeing new perspectives of the Pokémon we know and love.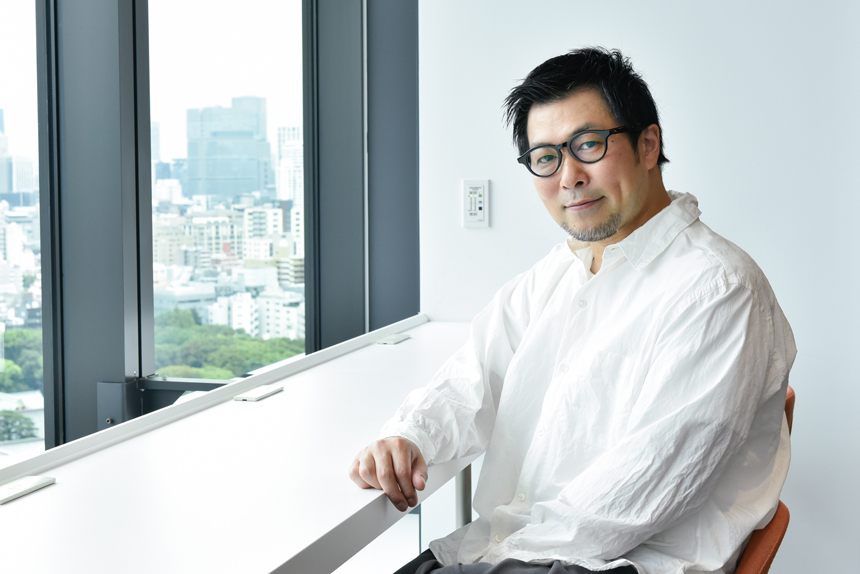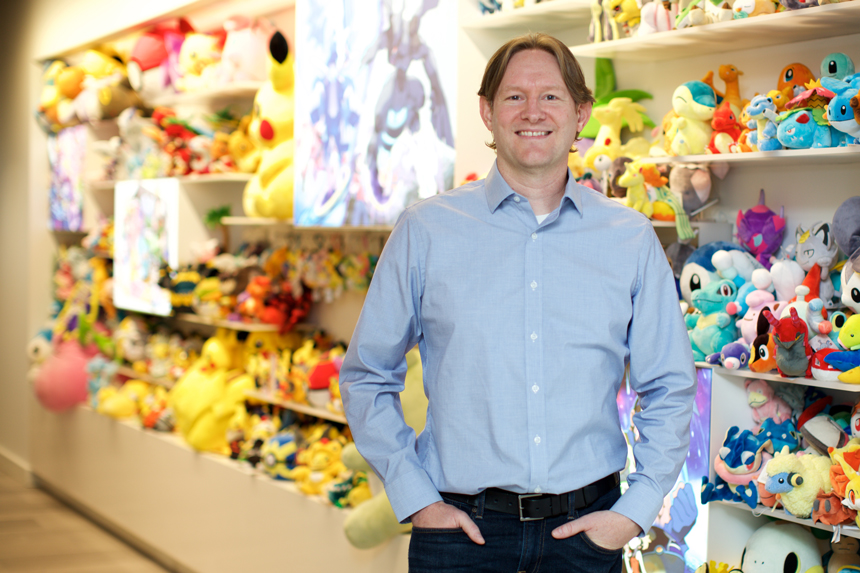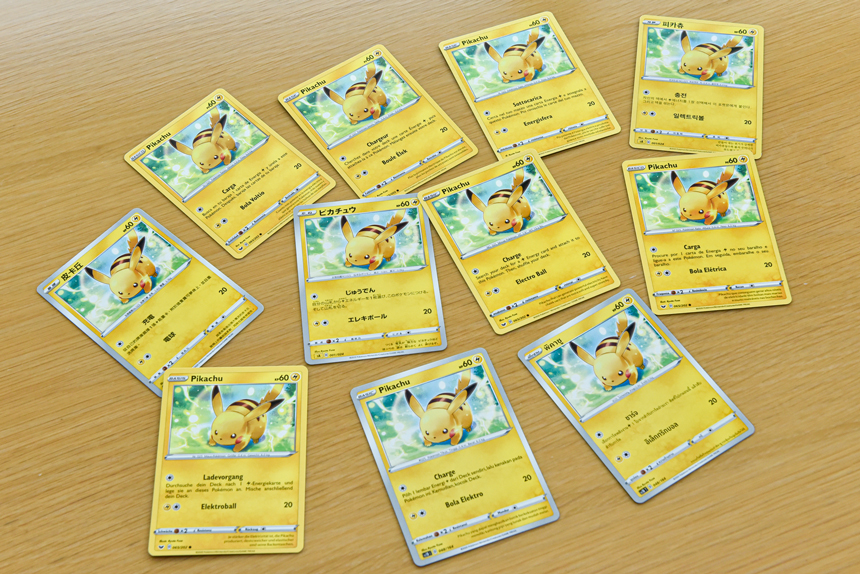 Composition and text: Shusuke Motomiya (One-up) Photos: Kayoko Yamamoto